Background
Located in Madagascar, Faly's base is an area of land near Ambohitrinindriana Village, about 20 kms from the capital Antananarivo. Faly Rafieferana is the former YWAM country director for the whole of Madagascar. On the base, he has built a church, a clinic and a school, all serving the needs of the local communities for several kilometres around.
The Mission House has supported Faly for many years with recent projects including a new refectory building for the school, together with water wells and washing facilities. These were funded mainly by the pupils from Abbot's Hill Independent School for Girls in Hemel Hempstead, UK. The girls have undertaken an excellent fundraising effort, converting their academic Community Development knowledge into practical end results.
To get a feel for the school and how it has developed over the years, please take a look here.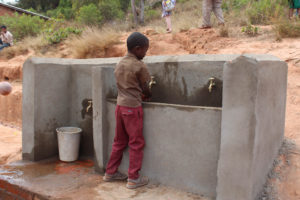 The Project
Our latest project builds on a previous work to provide an upgrade to the washing facilities. A previous project built two wash stations, one for the junior school, one for the senior school.  Unfortunately, the water source that fed these is no longer active, so a new source must be found.