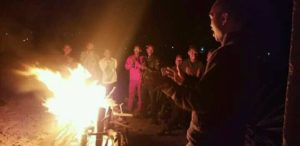 The Mission House have been providing Like Skills training in Fort Dauphin for 10 years, training over 1000 people in some of the skills needed to find vital work.
Graduates were invited to attend an overnight camp where they could network, tell their stories and join in celebrations around the camp fire. Salama, TMH director in Fort Dauphin reported that, "Every second was precious", and that, "Everyone enjoyed teaching, praise, dancing, sharing, games and food!". 
Further events will be held to mark the anniversary with a ceremony at the Town Hall with local dignitaries and a big picnic in the park.
The Trustees of TMH send their congratulations and thanks to Salama and his team. Well done for all the lives you have helped over these last 10 years. We look forward to supporting you for many years to come.